Testing .NET¶
Most of the heavy lifting is done by .net libraries. These can be tested independently from 3dsMax. These tests operate with a commandline tool and generate a text-file with the test results. After the tests have run, which might take a minute or two, please send this text-file to mail@klaasnienhuis.nl.
Download the testfiles here dotnet test files. Get the latest zip-file labeled with dotnet in the filename.
Test instructions¶
Download the zipfile and unzip it somewhere on your computer. There are lots of files in there, but you just need to doubleclick the MSTestRunner.bat file. This will execute the tests and it will run for a couple of minutes. You don't need to open 3dsMax for these tests. Once it's done you'll see the following: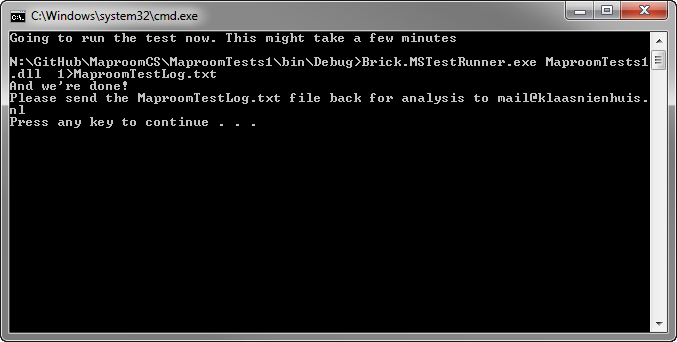 In the same folder, get the file MaproomTestLog.txt and send it to mail@klaasnienhuis.nl
Manual check¶
The tests (should) also create some images in your user folders. They should be about here: C:\Users\[username]\Documents\3dsMax\MaproomTest. Please zip that entire folder and send it over too.